Last week I visited the h+h Cologne, an international trade fair for creative handicraft and hobby supplies. Meaning: I spent a day in knitting heaven!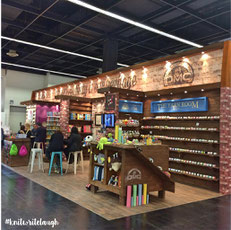 I really like strolling over fair trades in general - but a fair trade where you can find anything about knitting? You can't beat that.
All those wonderful yarns, clever supplies and inspiring designs... Nearly 400 exhibitors from all over the world, 3 days of fashion shows, workshops and events... And everywhere you go you will meet creative people that share your passion for knitting (and crocheting or sewing). Just fabulous!
I have already attended the fair trade last year but this year it was even bigger and better. So I decided: next year I will attend a day more to really enjoy every part of it.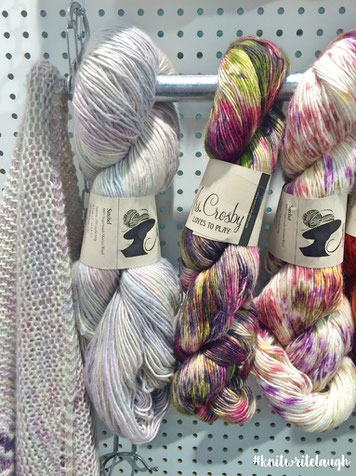 From my point of view the best part of the h+h is to see all those yarns. I am an absolute yarnlover! And even though I sometimes shop my yarns online I prefer to touch them first, to feel them, to realize the differences in their textures.  As my skin is very sensitive I am always very picky with yarns, I love them soft and not scratchy.
Also there is a difference in seeing the colours live, their different shades or colour gradients or combinations.
So I could just walk from one booth to another just looking through all the wools and yarns, touching and feeling them.
There are so many manufacturer right now that offer hand-dyed yarns. I love that! No two skeins look alike and so won't the knitted pieces.
Besides there are so many producers of raw wool because there are more and more indie-dyers who dye their yarns at home and sell them through different channels, on- and offline.
One reason why I love knitting is the fact that you create something individual. With these hand-dyed yarns this effect even increases.
Another great thing about the h+h is to see the new supplies. Some are creative, others are technically innovative. You never know what you missed until you find it!
So this year there are two things I really want to try:
"Strickspiel" - some curved double pointed needles you can use for knitting hats or loops in the round. If you are not a big fan of double pointed needles like me, that might be interesting for you, too.
Needle keepers: a tube where you can place your circular needles so your knitting does not fall off the needles while stored. I always struggle with keeping all stitches on the needle so this is my new must-have!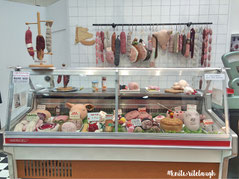 Last but not least: If you have been at the h+h or have followed up online you might already have seen this part of the fair trade. But nevertheless I want to show it to you as it is an amazing piece of art: 
A knitted (and therefore vegetarian!) butchery done by Madame Trikot. I still can not imagine how much work it is to knit all those sausages, pigs' heads, the chicken, every piece of meat...
In the gallery you find more pictures, this is really a great work!
Thanks for everybody I met and talked to at the h+h! It was a pleasure meeting you. Hope to see and hear you soon.