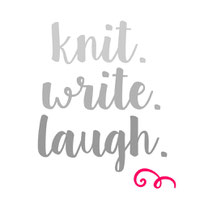 Social Media is a big thing. Most of us joined already one or two (or even more?) social networks. It is great to have a place where you can keep track of your private or professional network. Besides you can get in touch with people that are like-minded, that share your interests and hobbies. So as a knitter there are several social media "channels" or apps where you can find and follow others knitters and get yourself some inspiration.
So here is an overview about the social media where you can find #knitwritelaugh and why.
Facebook
Like most people I am on Facebook - and so is #knitwritelaugh. No need to tell you more about this site, I guess. ;)
You can find my blog posts there as well as photos of my current projects, beautiful yarn etc. Also I will share online articles, news, reports about knitting that I think are interesting.
Pinterest
Have you heard of Pinterest? It is a great website and app for collecting different ideas and information. Like a huge pin board where you can bookmark nearly anything you can find online.
I absolutely love Pinterest because my different boards give me a visual idea of what I wanted to remember - and by clicking on my pins I can just simply find more information on the related website.
So if you already joined Pinterest - you can find me and many ideas like knitting patterns or knitting inspiration or styling ideas here: #knitwritelaugh
Instagram
Very popular for posting photos of nearly everything. You know all those food pics - but did you realize there are many knitters on Instagram? There are so many hashtags that will show you endless knitting pictures... You might spend hours and days just looking around.
I just recently started my Instagram account #knitwritelaugh and I am happy if you take a look at my pictures. Mostly it is knitting related with current pics of my projects, yarn I discovered, knitting or styling ideas I found.
As Instagram is planning to add an algorithm and changing their timeline I don't know how this will develop in the future and whether it might become more commercial. But right now it is a great app!
Ello
Due to the changes in Instagram the creative folks are already looking for a new spot to post their pictures - and Ello has the potential to become it!
So if you are interested in new social media networks with a focus on creative minds - take a look at #knitwritelaugh and say "ello!".
Ravelry
THE community for all knitters, crocheters, designers and other yarn addicts. You can find patterns, ideas and inspiration, information about yarns and tools. You can keep track of your yarn, projects and patterns, and inspire others. There are groups so you can connect with other knitters & co. from all over the world - or just around your corner so you can arrange a meeting in person.
Find me here: #knitwritelaugh
Soon you will find my knitting patterns on Ravelry!
Hope to see you there soon!