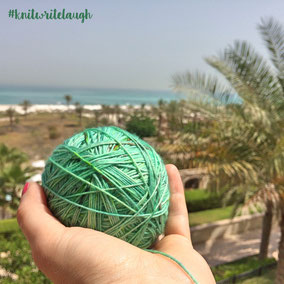 This year we decided to take our summer holiday pretty early in the year. We did not have very warm and nice spring weather so far here in the western part of Germany so we chose a spot where we could be sure to spend some really sunny and hot days: Abu Dhabi. It was the first time for many years that we planned a longer flight - the first time actually with kids.
I had hoped they would sleep during the flight and so I wanted to take some entertainment on the plane with me - my knitting. But the questions that popped up on my mind was: "Am I allowed to take knitting needles with me?"
So I started searching the internet. What I found - oh, great surprise! - where lots of different answers to my question. "Yes, you can" - "no, you can't". "It depends on your airline" - "it depends on the material of the needles". I looked on the website of my airline - no specific information about knitting needles. So I looked over the legal texts concerning hand baggage - but no hint about knitting needles at all.
Then I had the idea of looking on the website of our airport - in the end they would decide what to take through the security check. On the website of our airport I finally found some helpful content concerning luggage and security check: information in general about what to take with you in your luggage, as well as links and lists with further information. AND: there was a phone number to the German Federal Police (who is responsible for the security check) to help with further questions. So in the end it was just one short call that gave me the answer I hoped for.
Yes, I am allowed to pack knitting needles in my hand luggage. Yeah!!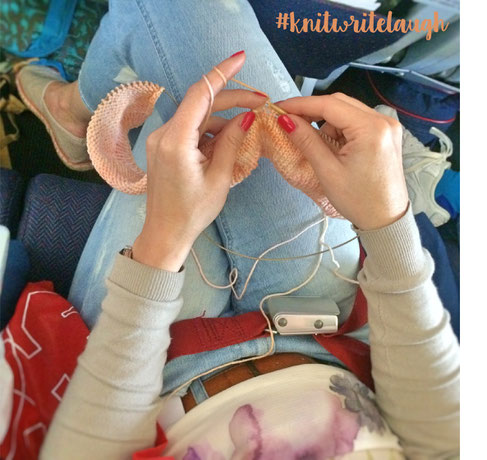 To be on the safe side I packed a additional pair of knitting needles in my suitcase - just in case I would have to leave the ones in my handbag behind. But there were no problems at all at the safety check: I was allowed to take my knitting with me on board of the plane. So I could not only use the waiting time at the airport to knit - but also on the plane.
As my boys slept a lot on board, read books and played games with their Dad and watched TV (they love Peanuts & Minions!) I had time for myself. It was amazing - watching several movies in a row while making progress on my knitting project. Very relaxing quality time, a perfect start and end of our vacation!
So if you plan a flight this summer and hope to knit on board: good news! I did not have any problems both in Germany and Abu Dhabi. But the regulations might be different in other countries. So maybe just have a look at the website of your airport and contact the office in charge of the security check. Fingers crossed you can take your knitting on the plane, too and have an equally relaxed start into your holidays!