Do you remember the shirt I knitted for my mom as a present for Mother's Day? That I couldn't finish in time? Well, it is finished now. And I have to admit, I am a little bit proud because I think this might be one of the best garment I knitted so far.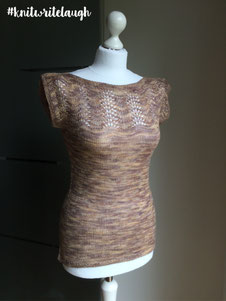 The shirt comes in a classic T-form with a boat neckline and very short sleeves. It is knitted in the round, from bottom to top. That way there are nearly no seams and you do not have to sew a lot together.
I chose the seed stitch for the cuffs, the stockinette stitch for the body and a beautiful lace stitch for the décolleté area both on the front and the back.
For the shirt I used one skein of Findley Dappled by Juniper Moon Farm. The yarn is a gorgeous combination of silk and merino, very soft and light. I knitted it with knitting needles in size 3,5mm, fitting size S/36 (but I have so much leftover yarn that I guess one skein would be enough for a bigger size as well). The colourway I chose is Gold West which has so many colours in between gold, mauve and lavender and flatters your teint. It is truly beautiful.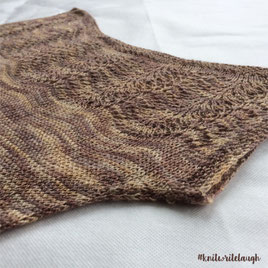 I designed the shirt by myself and I will write the pattern down. So soon you will be able to download a detailed instruction (in German and English) with lots of pictures here on my website. And of course you will find it on Ravelry as well! So just in time for those of you who want to knit something for the warmer days of the year...
One thing I already decided is the name: "Sommer in der Heide". I know it might seem a bit strange that I write in English most of the time and decided on a German phrase. But the reason is very simple: The shirt reminds me of the heath on the German island Sylt where I spent at least a few days every year with my parents for over 30 years now. The island is described as the "German Hamptons" with beautiful long beaches with white sand, dunes with green grass - and lots of heathland that blooms in all golden and mauve shades during the summer. Both the colour and the pattern remind me of those heather fields on Sylt - and as the shirt is a present for my mom who loves Sylt very much I decided that the German translation for "summer in the heath" will be perfect as the pattern's name.
And my mom? She seemed to be very happy with her new shirt! Maybe you will like it as well?