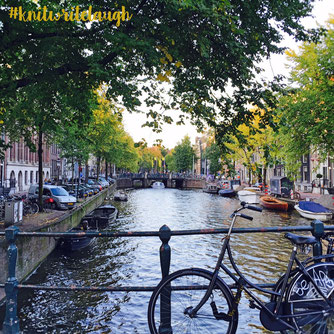 Last month we visited Amsterdam. For the first time - and I fell in love with this city immediately!
Those historic, lovingly restored buildings, bigger and smaller canals all around the city, narrow streets and the huge harbour, (house) boats and bicycles everywhere... Simply beautiful and adorable.
And the autumn gave its best: Bright sunshine and with the trees that just turned from green to yellow and orange and red the city just seemed to sparkle and be the most charming place.
We had some wonderful days, just strolling around the city. Our hotel was located at the harbour so we could explore the different quarters of the city center by foot. Walking for hours, relaxing in small cafès, discovering those gorgeous small shops that seem to be spread all over Amsterdam. Visiting museums, taking a boat trip through the Canals, eating delicious food in gorgeous little restaurants.
It was just awesome, relaxing and inspiring!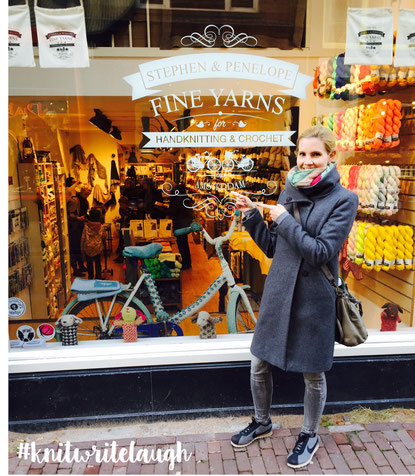 And of course there was a special shop on the top of my "must see" list: Stephen and Penelope!
We planned some time for my visit - and I was lucky enough that my husband took both boys to a near-by café. So I could have a time off, just me strolling around the shop, exploring all those beautiful yarns (I think I could spend just the whole day looking through and touching yarns), thinking about possible new knitting projects, combining colours and looking through books and magazines.
Such a great assortment, with not too many brands but with lots of different qualities and colours of each. And very nice advice - thanks very much!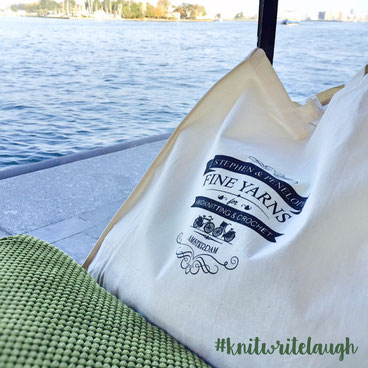 ... and of course I could not leave the shop without buying some yarn.
My first skein of Hedgehog Fibers (Merino DK, which will be a hat for my husband soon), some skeins of Madelinetosh and Undercover Otter (neon green!) for my son. And Yoth Yarn Big Sister in Rosemary and some Madelinetosh Tosh DK in Earl Grey for me - I had an eye on that colour for quite a while now and was so happy to finally see it live! So no chance to resist it anymore... ;)
After the "exhausting" yarn shopping we took a break in a beuatiful little café in the harbour. Did I already mention that I love this city?!
Amsterdam, watch out... I will definitely be coming back!